We Didn't Invent Brunch, We Just Perfected It!
Whether it's a quick breakfast meeting with colleagues, brunch with friends and family, lunch alone or a carry-out to dine at home or your office, Milk & Honey Cafe is something special. Our portfolio of restaurants range from some of the best and finest dining in the DMV area, serving up a variety of casual options.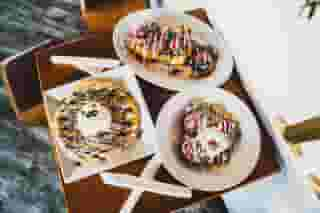 Catering
From an office party to an at-home celebration, we can help with your next event. Whether it is business, personal or pleasure, we know you know a good opportunity when you see one. And, hosting your event at a Milk & Honey restaurant or requesting that we cater to your event is just that - a good opportunity to take your event to new levels. Milk & Honey Cafe is one of the premier caterers in the DMV & Atlanta areas to host events.
Visit Us
The Real Milk & Honey - Atlanta, GA
3719 Main St
College Park, GA 30337

Hours
Monday:
9:00 am - 4:00 pm
Tuesday - Wednesday:
Closed
Thursday - Sunday:
9:00 am - 4:00 pm
Milk & Honey Cafe
10280 Baltimore Ave
College Park, MD 20740

Hours
Sunday - Saturday:
8:00 am - 4:00 pm
Milk & Honey In Smith Commons
1245 H St. NE
Washington, DC 20002

Hours
Tuesday - Saturday:
11:00 am - 6:00 pm
Sunday:
10:00 am - 6:00 pm